5 steps to becoming a freelance graphic designer
Changing or starting your career can be daunting, but you should always follow your passion. Graphic design is a varied and rewarding job but there are a number of things you will need to know before you get started.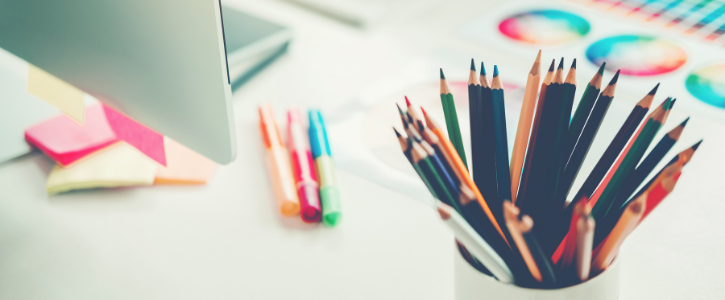 What is graphic design and how can I use it?
Graphic design is all about visual communication and how each design can connect to people to reach a wider audience. The objective of graphic design is to heighten a message, whether that's to a specific person or to a group. Visual elements are key to present day life, and are highly used in marketing, web designs and for all your favourite brands. Typography and the use of colour are key to designing an engaging and insightful piece of graphic design. Typography allows the freedom to use different fonts, styling techniques and is one of the main pieces of the design.
Here below are the top 5 steps to help you kick-start your career as a freelance graphic designer.
1. Understanding the history of graphic design
The history of graphic design dates back to 15,000 BC where the basic use of symbols were the predominant way of communicating to a group of people - this progressed to paper/print in 105 AD. The Industrial Revolution in 1760 allowed machines to further advance the way we use designs and words to reach out to people, with print design becoming increasingly popular. Nowadays, media has expanded into print and digital design to interact with individuals. This shows how far graphic design has come. Understanding the history of graphic design lets us see the social trends that have developed over time and can also be a basis for you to draw inspiration from older designs – print or digital. In today's world, you can now use the majority of graphic design skills through digital media and there are a variety of tools provided to help.
2. What skills do I need to become a freelance graphic designer?
There are a variety of skills which would be beneficial to have when becoming a graphic designer, both technical and creative, but remember to focus on the skills which are the most essential to graphic design to begin with. Here below are key design skills to get you started:
Typography is the arrangement of text used to illustrate an appealing composition. The type of font and the appearance of words is instrumental in this skill.
Calligraphy also plays with the style of words but is predominantly done through pen or ink to create letters.
Web design allows you to edit designs and also create your own websites - understanding the software needed is vital.
Portfolio Management is key in order to keep a record of your work. Building a portfolio to express your designs from your client's briefs is crucial as it can help you attract new clients by showing off previous designs.
Creativity is the most essential skill, how else with you be able to show off your creative flare? These creative skills are what many clients are looking for when approaching a freelance graphic designer.
3. Choosing your route
When choosing which type of graphic design style to use, it is important to have a clear vision of your personal brand. If you are into colourful design, then textile and surface design could be the right fit for you. If you have an eye for detail then illustration or web design could be the right direction.  Clients may ask for you to redesign their whole website or perhaps create an editorial design in a magazine; but you need to be clear what you are offering and the benefits for choosing you as their freelance graphic designer. When reaching out to clients, show off your best work and use case study examples to amplify this. Remember to show your personality; this could be through a mood board or your own website.
Choose a route that you are most motivated by so it will allow you to stay focused on your projects and put your relevant skills to use.
4. Understand software
With graphic design, it is important to know what software you're using and what it does. Some popular software freelance graphic designers' use includes Adobe InDesign, Photoshop, Illustrator and Sketch. These are therefore some of the tools you may need to become a freelance graphic designer. It may also be beneficial to have some HTML knowledge and excellent IT skills, particularly if you are looking to become a freelance web designer.
5. Expand your knowledge
Expand your knowledge and broaden your skillset by taking on graphic design courses. This is a great way to develop your portfolio and lets clients see that you are multifaceted and can provide them with a wide variety of services for their business. Make yourself available for different opportunities that arise in order to keep up with changing industry trends and demands. Why not venture out into web design courses too so you can display your graphic designs online. Remember that everyone begins at a different level of expertise so getting out of your comfort zone and enhancing your skillset can be a great experience; it will allow you to expand your freelance graphic design offering and grow your freelancing business.
Becoming a freelancer has become increasingly popular, so it's essential to be aware of what you need to know before starting a career in freelance graphic design in a competitive market. By following these steps, you will be on your way to becoming a freelance graphic designer.
Find out how to find work as a graphic designer here