As a freelancer you want to ensure that you get paid for the work you do, and you might be hesitant to start a project without payment or partial payment upfront as a form of protection.
However clients may also be unwilling or hesitant to make any upfront payments for fear of the freelancer taking their money and not completing the job.
This could mean losing a potential client if you are unable to come to a suitable agreement.

Some of your worries about payment as a freelancer might include…
Should I complete the job without an upfront payment?
Are they going to take my work and disappear?
What are the terms we are working with?
What if they refuse to pay?
If any issues arise, who do I speak to?
If you are thinking any of the questions above, then WondaPay can help.
How can WondaPay help freelancers and clients with payments?

WondaPay is the only FCA-registered escrow payment platform for freelancers and their clients.
Freelancers can request clients' payment into the WondaPay account before work, which gives both freelancers and clients complete protection and confidence that the money is secure and will be released once the project has been delivered.
It should mean that freelancers are able to commit to projects without the fear of going unpaid, or having to spend time chasing unpaid or late invoices. All of which enables freelancers to build strong relationships with their clients and spend more time focusing on their contract work instead of administrative duties for their business.
Use WondaPay to request payments from clients in seconds- and get access to your money 10 minutes after project completion. Every client, every time.
Never worry again about 30 plus day payment terms or chasing late or unpaid invoices.
WondaPay understands that the most productive projects are the ones where there's mutual trust and a close collaborative relationship between freelancer and client. WondaPay is here to facilitate this relationship with their unique trust platform.
It also has a dispute resolution service available should your client refuse to pay. They provide freelancers with support and advice, helping them to deal with payment problems professionally and efficiently.
Contact WondaPay now to see how they can help you.
How does WondaPay work?
Agree your contract terms and request payment then all you need to do is deliver your work – WondaPay will sort out the rest.
When the time comes to request payment, they will make sure the payer is satisfied with the work provided and will then release your funds – it's as simple as that.
Freelancer payments made easy in three simple steps: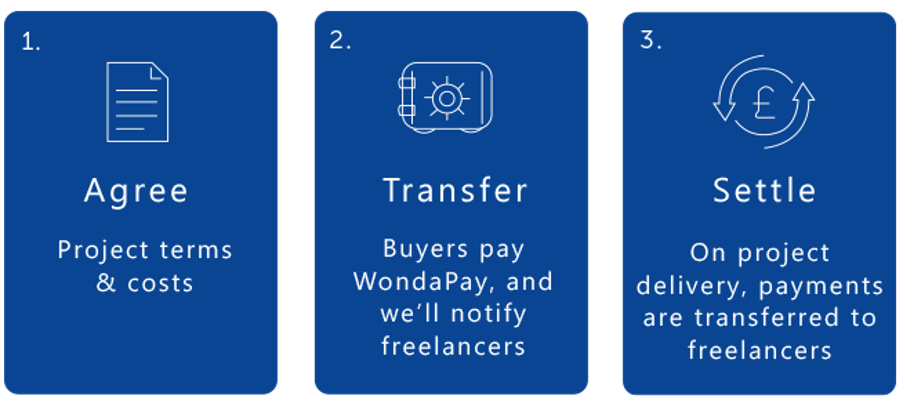 Superfast
Paying into escrow ensures freelancers get paid within 10 minutes of completing a project - meaning no waiting or chasing invoices.
---
Simple
Once signed-up, all you need is the other party's email address to start a project.
---
Secure
We're registered with the UK's Financial Regulator, the FCA, and will hold your funds until the transaction is complete.
---
Review
Every transaction is verified so freelancers and payers can see a summary of completed projects and disputes raised.
Get started with WondaPay today and say goodbye to late and unpaid invoices!